Top 7 Best Gymnastics Duffle Bag - 2021 Review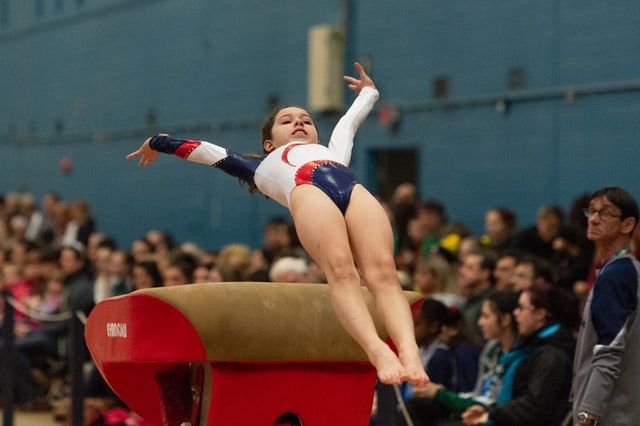 Whether you are a serious gymnast or just someone who has been taking classes for fitness, it is important to find the best gymnastics duffle bag to transport your equipment. Not only do you need to protect your gear, but you also want to make sure that your bag is large enough and easy to carry. Here are some of the features that you should look for when searching for the best gymnastic duffle bags: material, space, compartments, functionality, and the extent of maintenance.
We know a gym bag is essential for any athlete and is a must-have item between each workout session. To ease up the process for you, we've listed a few of the best duffle bags that do a perfect job, considering they are lightweight, durable, cost-friendly, among many other things. Let's jump in.
Our Top Picks for the Best Gymnastics Duffel Bag
Best Overall
Puma Evercat Women's Duffel Bag
Machine Washable

Made with thick material (polyester) and has sturdy straps.

One zipper pocket and a compartment that lets you carry your water bottle or protein shaker.
Best Value
Spring Country Gym Duffel Bag Women
Zippered and mesh pockets

Very durable
Best Affordable
Jadyn 19" Duffel Gym Bag
Easy to clean

Very lightweight, it weighs only 1.6 pounds

31 liters capacity
Best Overall: Puma Evercat Women's Duffel Bag
The Puma Evercat is a duffle made explicitly for women. The Evercat comes with one primary pocket, two secondary side pockets, and one front zip pocket.
Also, the Evercat comes with a shoe compartment and 24-inch long adjustable shoulder strap. Moreover, it has a spacious primary pocket, and you can carry all your essentials pretty easily.
It is very lightweight, weighs only 33 grams, and can adjust the shoulder strap or remove it as you please. It's a perfect size gym duffle bag for any sports enthusiast.
Puma Evercat Women's Duffel Bag
Machine Washable

Made with thick material (polyester) and has sturdy straps.

One zipper pocket and a compartment that lets you carry your water bottle or protein shaker.
Best Value: Spring Country Gym Duffel Bag Women
This duffle bag from Spring Country is one of the best duffle bags you can purchase. This bag is best for daily use and is equally versatile. It is finished with high-quality water and tear-resistant oxford cloth, strong metal zippers, and improved with reinforced stitching at the critical stress areas to make it durable against daily activities.
It also features a primary compartment and many secondary pockets—one shoe compartment and one waterproof laundry pocket help in isolating sweaty or wet clothes and water gear. Plus, a side pocket that can fit a water bottle or a protein shaker.
This cute gymnastic bag has spacious compartments for easily organizing your essentials and is very lightweight. It is foldable and has anti-slipping shoulder straps.
Best Affordable: Jadyn 19" Duffel Gym Bag
If you are looking for a cheap gymnastics duffle bag but made of good quality, this can be a great pick.
The Jadyn duffle bag is a multifunctional bag capable of carrying your gym and sports essentials. Finished with durable fabric and is immune to wear and tears.
This bag has one primary compartment, which is spacious enough to accommodate all your gym gears and outfits in one place. Also, it has an eye-catching floral design that makes it a delight for every gymnast.
The Jadyn duffle bag has an easy-access secondary pocket and an interior zippered pocket to keep your things secure. You can use these pockets to vouchsafe your things and also store small supplies.
This bag comes with an adjustable shoulder strap and a 13-inch long handle drop.
PHABULS Waterproof Gym Duffel Bag
The Waterproof Gym Duffel Bag by Phabuls is one of the best gymnastic backpacks for women.
The Phabul gym duffle bag is pretty improved from other duffle bags as it is finished with waterproof and lightweight oxford fabric. This gym bag has a very spacious primary pocket and three other secondary pockets.
In addition, it features a waterproof zipped pocket that helps carry some wet clothes separately, plus it has a small pocket on its left side for carrying some supplies. Furthermore, this duffle bag for women has a separate compartment for carrying your sneakers. This bag comes with an adjustable buckle and a hook, and you can customize your bag as you wish.
Under Armor Women's Essentials 2.0 Duffel Bag
The Under Armor 2.0 Duffel Gym Bag is a perfect pick for anyone looking for a duffle bag. This bag has one primary front zippered large main compartment and full-length internal zippered closure pockets that you can put your phone and your other essentials. Easily make a personalized gymnastics bag with it's simple color and design.
Additionally, it has an 8-inch-long shoulder strap with a padded top grab handle and high technology for water resistance with a large vented pocket that can carry your sneakers. Exterior elastic straps offer customized storage and the front slip-in pocket for quick and easy storage.
Under Armor Women's Undeniable Duffel Gym Bag
If you are looking for a duffle bag in a reasonable price range, no wonder the Under Armor Undeniable Duffel Bag is a good pick. It is made with UA storm technology and has high water resisting capability.
It has one primary compartment and two secondary compartments. In addition, it has two heavy-duty metal chains; you can use a locker to lock them as well. These compartments are sufficient to accommodate all your essentials and gym gear.
It has a zipped compartment right in front of the duffle bag for quick and easy packing. Also, it features a customizable shoulder strap that gives a 7-inch shoulder drop. If you wish, you can easily detach it.
Under Armor Women's Undeniable Signature Duffel Bag
The Under Armor Undeniable Signature Duffel bag is finished with UA storm technology and is immune to water. It is crafted using durable and unique nylon that is water-resistant and tear-resistant. It's colorful patterns makes it a perfect gymnastic bag for girls of all ages.
This bag is an adamant, abrasion-resistant body. It has a spacious pocket that allows you to carry wet clothes or shoes inside its mesh pocket. Also, it is a lightweight bag and is capable of carrying a lot of things at once. Additionally, it features an adjustable shoulder strap that unlocks multiple ways to carry it.
Features to Consider for Gymnastic Duffle Bags
Material and Durability
Gym bags differ not only in type but also in the material used to make them. Polyester, nylon, canvas, and leather are the most commonly used fabrics that are perceived to have high-quality features and to be long-lasting. If you're going for leather, make sure to check the quality and if it's at all real. Even nylon has nearly the same toughness as canvas but with added water resistance. If you're traveling with liquids or sweaty clothes, a waterproof interior comes in handy, so it doesn't have a foul odor or loses its durability.
Storage Space
Aside from the ease of access and long-lasting zippers, another feature that distinguishes a high-quality gym bag is its storage capacity. While having a variety of compartments for different purposes is a nice bonus, the number of things you can fit in a gym bag is what ultimately defines it.
Closure Systems
The closure system is one of the most vital aspects to consider in almost any kind of bag. So, look at various ways the duffle bag can be closed, and it can either be a drawstring or a zipper. All in all, check whether you have an excellent closure system.
Maintenance
The more durable and low-maintenance the gym bag, the easier it will be to care for. To keep it looking new, you should be able to wipe it down with a damp cloth and a disinfectant now and then.
Like for some materials, you can wash your bag once a month or once every three months, depending on how frequently you use it. This will remove any bacteria or dirt that has accumulated after weeks of heavy use.
Usability and Capacity
When it comes to working out at the gym, you want to have all of your workout necessities on hand. This significantly impacts getting into the workout mode and achieving your body goals more quickly and efficiently.
Always look for compartments and pockets for specific things, like mobile phones, bottle holders, separators for wet and dry clothes, etc.
Conclusion
This article discussed the seven best duffle bags available in the market and their pros and cons to make it easier for you to compare one product with the other.
We have also provided you with a Buying Guide to help you understand the factors you should consider when buying a duffle bag. I hope this article helps you find the best duffle bag for you.
Our Top Picks One More Time